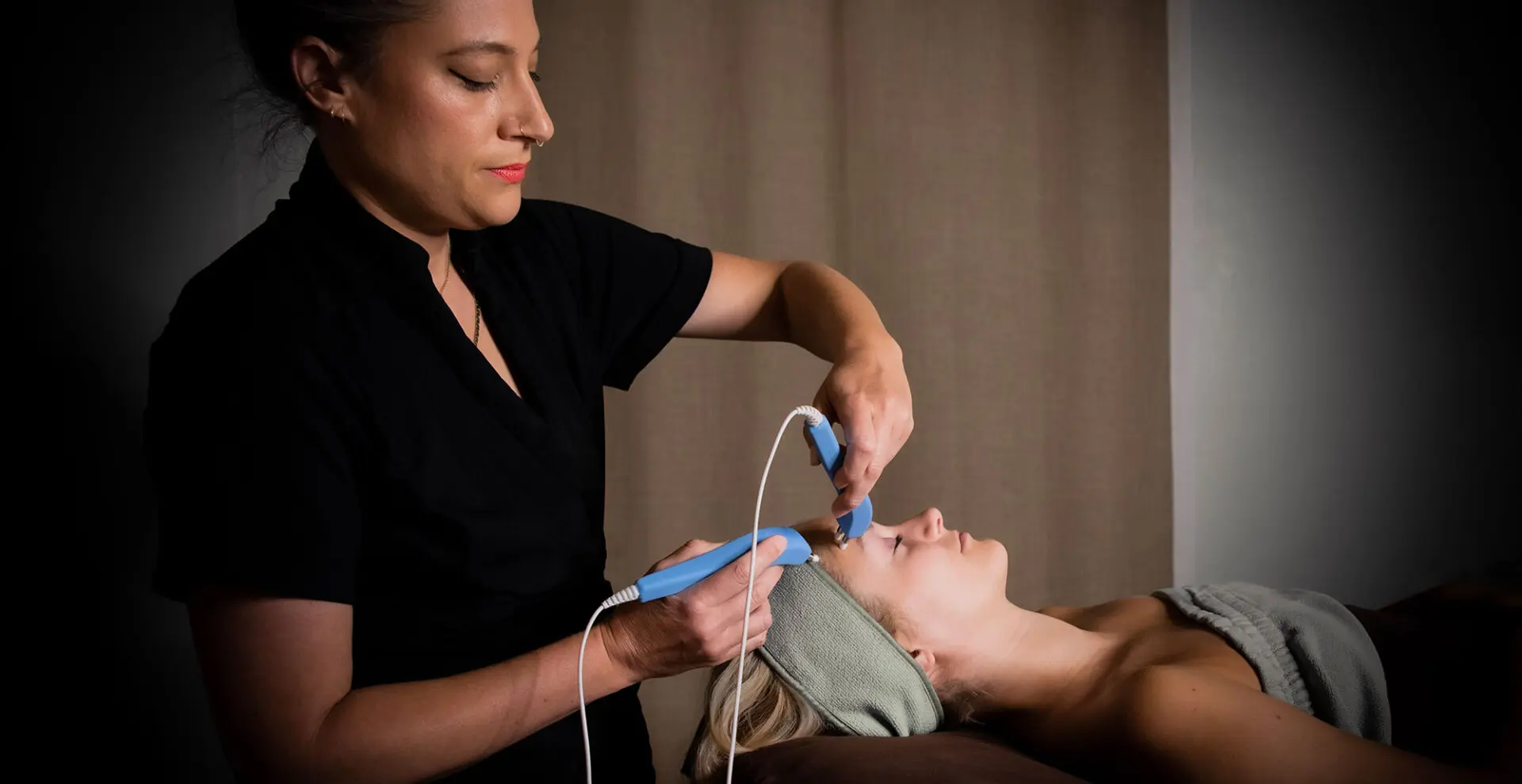 Facial Services Disclaimer
*For 70-minute facials you will change into a wrap, receive additional massage, and have a treatment mask applied.
*Not sure which facial is best for you? Book "Undecided" and let your team of pros help you choose.
*If you are pregnant, we require being at least 13 weeks along to receive a facial.
*40 minute facials do not include changing into a wrap. *Choose "undecided" if you are unsure about the ideal facial for your skin type. *If pregnant, must be at least 13 weeks to receive a facial.
$390 - 70 minutes
$350 - 40 minutes
ProCell is the next big thing in esthetic treatment! This microchanneling treatment is a gentler approach than microneedling, but with the same power-packed results. Wrinkles, acne scars, hyperpigmentation and more are reduced while you enjoy virtually NO downtime. ProCell has also developed a 2 step stem cell at-home system designed to maximize your treatment to give you your most youthful, clear, glowing skin yet!
**Save 10% when purchasing a series of 4!
Microneedling (CIT-Collagen Induction Therapy)
$275 - 60 minutes
Simple, but highly effective, this treatment will stimulate cell turnover and boost production of collagen and elastin. It is ideal for diminishing wrinkles, acne scarring, and even ice-pick scarring.
*Can also be performed on other areas of the body.
**Save 10% when purchasing a series of 4!
$160 - 70 minutes
$110 - 40 minutes
By gently removing the outer layer of dead skin cells, a brighter and smoother complexion is immediately revealed. This treatment removes vellus hairs and softens the appearance of wrinkles for a youthful glow.
$50 - 40 minutes

Customized red and blue light therapy rejuvenates skin by targeting acne, decreasing inflammation, and increasing microcirculation. You will leave with revitalized, smooth skin.
MICROCURRENT FACIALS Microcurrent, a popular treatment in Europe for aging skin, uses low level electrical current to trigger the body's natural skin enhancement chemicals at a cellular level and is an effective tool against the signs of aging. It provides contouring, firming and toning benefits that continue to improve with subsequent treatments. In conjunction with specialized products and manual manipulations of more than 30 facial muscles. A state of the art technology, Microcurrent is the perfect solution for the person who is concerned about the aged appearance of their face, but would like to avoid surgery or invasive procedures. Microcurrent achieves a healthier, younger, toned and refreshed appearance.
$180 - 70 minutes
$245 - 100 minutes
Low levels of electrical current combined with facial muscle manipulation provide firming and toning benefits for aging skin. Best done in a series of 10-15, this treatment provides an alternative to surgical procedures.
Turbo-Lift Facial Treatment
$225 - 90 minutes / $170- 60 minutes

Experience an instantaneous and clearly visible lifting of the skin. Perfect for wedding, special occasions, between appointments, when traveling, or when you simply need a quick "pick-me -up".